RV Sites, Sites with Units, Modular Homes, Condos
The past three years have been record-breaking for Holiday Park real estate sales, resulting in less inventory available for sale in the Resort at this time.  Increasing interest in the community lifestyle offered here, combined with the rising cost of real estate countrywide, has contributed to the high volume of sales and potential buyers in the Resort. All current indications are that this trend will continue, with more homeowners downsizing and opting for the 24/7 security and convenience of this unique property with all its amenities and facilities.
Call for information or an appointment, or drop in to our on-site Sales Centre and meet Marion Lahey and Nicole Joakimides, licensed Coldwell Banker REALTORS®, for all your real estate needs in Holiday Park Resort or anywhere in the Okanagan Valley.  Pick up a current listing handout and check the wall map with pins showing Coldwell Banker properties for sale in Holiday Park Resort.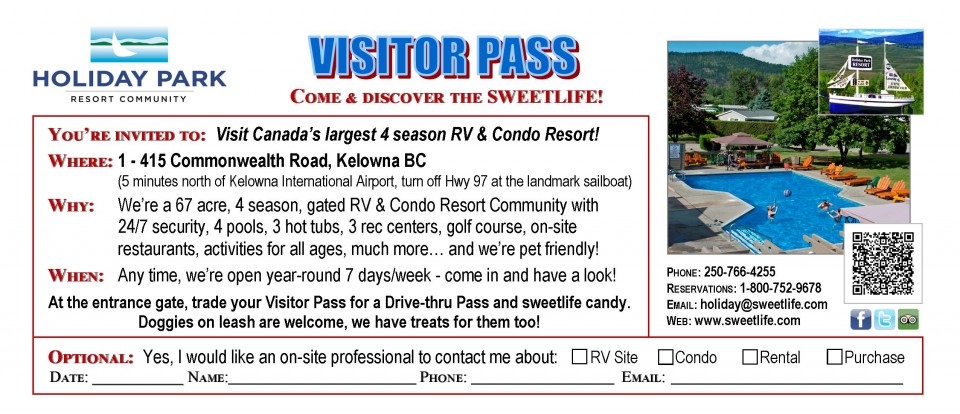 Download and print a free, no obligation Visitor Passes for yourself, family, friends, co-workers.  We invite you to come in at your convenience and have a look at what we're all about.  At the entrance gate, exchange your Visitor Pass for a Drive-thru Pass and sweetlife candy, browse through the resort and see all that we have to offer.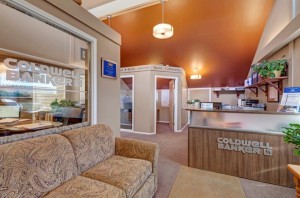 Holiday Park Sales Centre hours will be as follows until further notice:
Monday - Friday   9:00 am - 4:30 pm
Saturday  10:00 am - 3:00 pm
Phone: (250) 766-6811
Email: sales@sweetlife.com
View Holiday Park Real Estate Listings to contact a Realtor directly.