RV Sites, Sites with Units, Modular Homes, Condos
Sales Centre 2019/20 Christmas schedule: 
- Realtors will be available by appointment only Mon. Dec. 9 to Wed. Jan. 2, 2020
- The Sales Centre will close Thurs. Dec. 19 to Tues. Jan 1, 2020
- Regular office hours will resume Wed. Jan. 2, 2020
Happy Holidays!
The past three years have been record-breaking for Holiday Park real estate sales, resulting in less inventory available for sale in the Resort at this time.  Increasing interest in the community lifestyle offered here, combined with the rising cost of real estate countrywide, has contributed to the high volume of sales and potential buyers in the Resort. All current indications are that this trend will continue, with more homeowners downsizing and opting for the 24/7 security and convenience of this unique property with all its amenities and facilities.
Call for information or an appointment, or drop in to our on-site Sales Centre and meet Marion Lahey and Nicole Joakimides, licensed Coldwell Banker REALTORS®, for all your real estate needs in Holiday Park Resort or anywhere in the Okanagan Valley.  Pick up a current listing handout and check the wall map with pins showing Coldwell Banker properties for sale in Holiday Park Resort.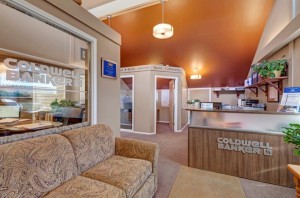 ---
PEAK ROOF MODULAR HOMES
Park Model (PM) RV site leaseholders, choose your new Peak Roof modular home and Okanagan Room addition from Holiday Park Approved Manufacturers.
Eligible RV sites must meet with current Holiday Park Resort and Peak Home specific rules and regulations.
Visit the Downloads & Forms page for PDF copies of resort Rules and Regulations as well as Peak Roof Homes requirements and rules.
---
RV SITE RENTAL POOL
RV site leasehold owners, if you aren't using your site from May 1 to September 30, it can generate income close to the cost of your annual maintenance fee!
The Holiday Park Resort Rental Pool (RV site only, no unit) is a true rental pool, managed through our Reservations department.  100% of the rental revenue received is recorded and 60% goes to the Rental Pool.  Credit to the leasehold owner is based on the number of days the site is in the rental pool, regardless of whether it is rented or not, plus daily hydro per diem for days the site is used.
During the contract term a leasehold owner wishing to take the RV site out for their own use, can book a maximum 2 week period in July or August if the site is available.
Check out the Annual RV Site Rental Pool Contract for further details and contact Reservations for more info.